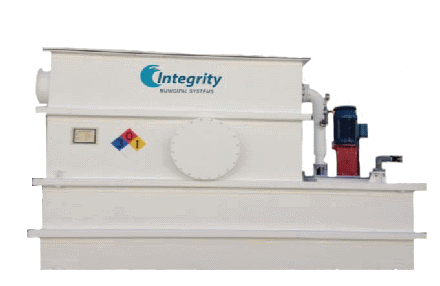 INTEGRITY MUNICIPAL SYSTEMS (IMS) - EMERGENCY CHLORINE GAS SCRUBBER SYSTEMS
The IMS wet emergency chlorine gas scrubber systems are designed to contain and treat accidental releases of up to 3-tons of chlorine gas. The IMS chlorine scrubber is a three-stage single-pass chemical absorption system with very high efficiency horizontal packed bed sections. An induced draft fan pulls the chlorine gas through the scrubber, where it contacts a recirculation caustic solution. The scrubber system is factory pre-assembled, complete with induced draft fan, recirculation pump, instrumentation and controls. The system design was subjected to the most demanding testing in an actual full scale 1-ton chlorine release and surpassed the requirements of the Uniform Fire Code Section 80.

For more information, please click on the logo below.